Deck Interview: The Fountain Tarot
I love the Fountain Tarot. I was struck by its luxurious imagery when I ordered it, and I fell in love with its liquid mercury edge, but it's proved itself to be so valuable to my tarot reading. It's turned out that I have a connection to the molten metal of this deck for other reasons (see "My Guide, My Self"). I think it's amazing for personal development, self-reflection, and shadow work (see "What is Shadow Work?"), so it checks all my main boxes for personal use. It's also useful for business and planning (it uses Coins instead of Pentacles), but I've found it surprisingly insightful for spiritual work, something missing from the interpretation of Coins that's there with Pentacles (again, see "My Guide, My Self" if you haven't already). That said, I can understand why some people think it's "cold." The Three of Cups, a card of joyful friendship, doesn't show a single face or emotional expression; it's an abstract outpouring of love and joy. (In fact, the Cups as a whole feel a bit distant, so that could feed into its outward lack of emotion. As someone with "resting android face," I don't mind that.)
All of the figures and scenes are modern, which is great for bringing it into your everyday life, finding recognizable faces and scenes, and thinking through creative projects. But it sometimes feels like they're in their own encapsulated worlds. Maybe it's the strong geometric patterns and bold white borders, like we're looking into a scene from a near-future setting. That's probably another reason why I love it, and that sci-fi twist makes this posting perfectly timed for Aquarius season. But let's get to the interview, shall we? As always, I used the @matchatofu Tumblr tarot interviewing spread; the page no longer exists, but you can Google it.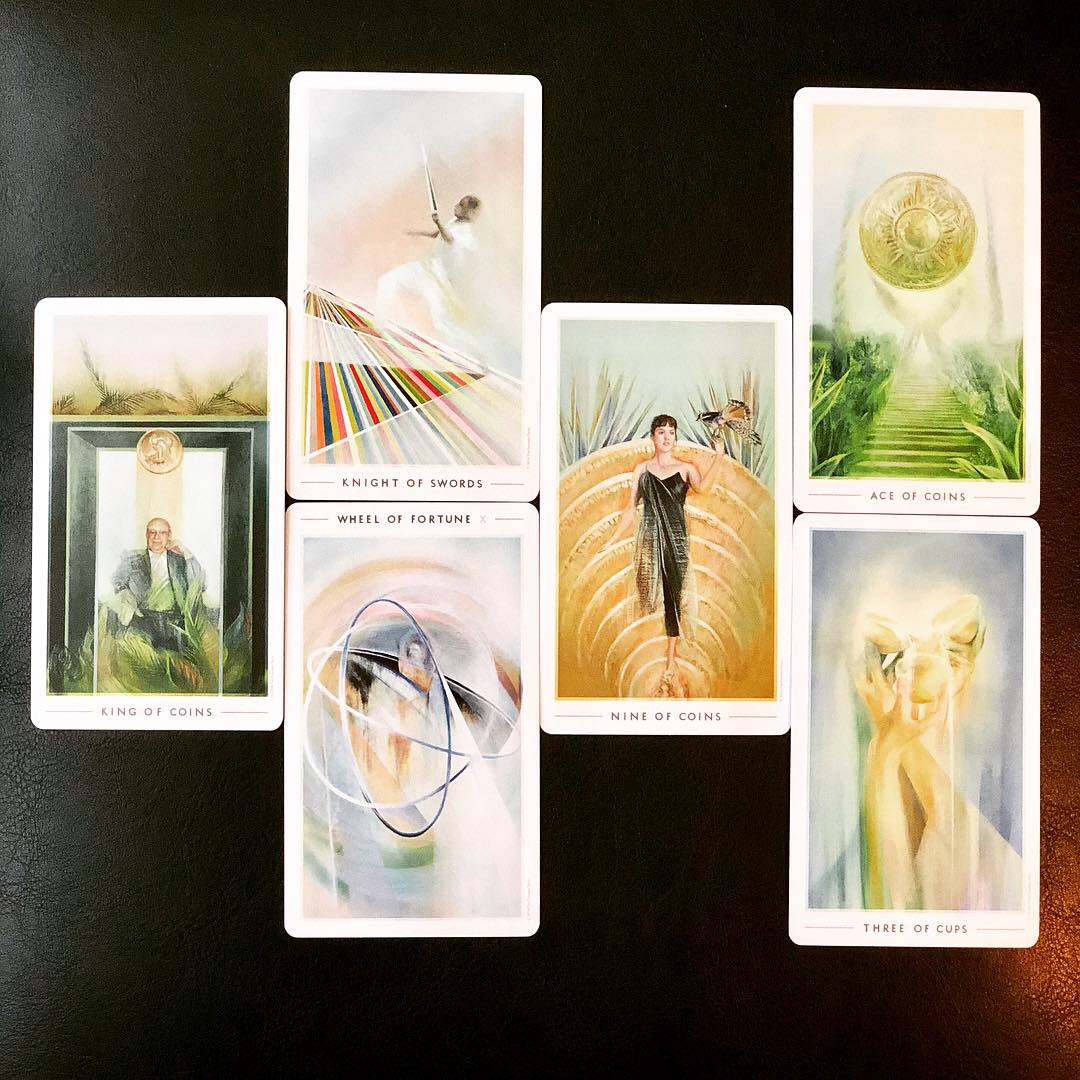 INTERVIEWING the FOUNTAIN TAROT
Tell me about yourself. King of Coins.
What are your strengths? Knight of Swords. And your limitations? Wheel of Fortune.
What are you here to help me learn? Nine of Coins.
How can I work with you most effectively? Ace of Coins.
Where is our partnership headed? Three of Cups.
The results of this spread had a strong impact on my initial impressions of this deck, but they've really been reinforced in the months since getting the deck, especially the Three of Cups; it really does feel like connecting with an old friend. The luxuriousness of the deck and its utility for financial and business readings are confirmed by three Coins cards. The fact that there are no major arcana cards outside of the "limitations" position supports the idea that it helps with the day-to-day and with personal development, something the little white book itself states. The concentric geometry of the images (the doorframe within frame, the stacked and criss-crossing straight lines, the concentric and overlapping circles, the horizontal lines of the step) really gets at the idea of progression and growth that comes about from personal development and improving oneself. And of course all of the richness of these cards feel pretty aspirational.
But some of these same ideas have also turned out to be a bit self-limiting. I assumed that this deck wouldn't be as good for spiritual readings because of the lack of major arcana and the shift to Coins, which are very tied to money, from Pentacles (the pentagram of the Pentacles signals the importance of putting spiritual above material concerns, even if the suit is often literally about material things). In reality, it's actually quite useful for my own spiritual reflecting. The consistency with which I feel a very clear response from the deck in surprisingly literal ways (usually major arcana) is unlike anything I've experienced with another deck. I still would not use the deck for "predictive" readings—it's not likely that I would do many of those anyway, even for myself, but the Wheel of Fortune in the limitations position has proved right on that front. Still, the deck is good for logic-based planning, and the Knight of Swords in the "strengths" position holds true in that regard: clarity of thought can lead to bold action with the cards in this deck as a guide. I'd like to think that the Knight is also tied to a rush of insights; that feels more like a Knight of Cups in the Smith-Waite/Rider style, but in this deck the Cups court cards, though cool looking, all feel a bit under-appreciated, and I don't get a whole lot of sense that they're tied to intuition or creative insights, as they might be in other Smith-Waite/Rider style decks.
It surprises me that I don't have more to add about this interview given how important this deck is to me, but it could be because it just feels so natural to use it now that I've been using it. What could I possibly say to describe those ineffable moments? And for a client? I suspect one simply likes it or one does not. Some of the imagery can feel quite unsettling and dark, although rarely overtly.
The cards shown here are from the Fountain Tarot, published by Roost Books © 2017.